YOUR TIME MACHINE TO THE PAST!
SERVING CUSTOMERS AROUND THE WORLD SINCE FEBRUARY 1999
ACTIVE AUCTIONS THIS WEEK
ENDING ON NOVEMBER 8, 2016
-----------------------------------------------
NEW AUCTIONS
-------------------------------------------

SPACE TUB ROCKET DESK MODEL
BRAND NEW

'Space Tub' - Fleet Edition Collectible Figure from Cool Rockets by Jeff Brewer. Measuring about 7.5" tall by 9" in length, The Space Tub gives a real sense of motion and space perched on the end of it's cartoony trail of blast-off smoke, leaving no doubt that it's in a big hurry to get somewhere. Limited edition model.

The hand-applied rusty patina gives the Space Tub that well-used retro look.

OPENING BID: $185.95

7

DAY AUCTION!

-----------------------------------------------------------------

BLAST SPACE ROCKET DESK MODEL
BRAND NEW

The hand-applied rusty patina gives the Space Tub that well-used retro look. One classic rocket design: Blast! This beauty is a 7.5" tall and 11" long desk sculpture of a vintage rocket blasting off. The eye-popping colors and the inclined angle make Blast a truly original piece. Limited edition model by Jeff Brewer.

A hand-finished, slightly rusty patina gives it the persona of a spaceship that's been around the block a few times.

OPENING BID: $185.95

7

DAY AUCTION!

-----------------------------------------------------------------

BUCK ROGERS BATTLE CRUISER RESIN MODEL
BRAND NEW



The Battle Cruiser is one of the classic Buck Rogers ships. Distinguished by its bullet shape and porthole windows, the Cruiser also sports front and rear gun turrets, and a main gun on the top. Mounted on its own custom resin base with raised

Buck Rogers and the 25th Century

logo, this Buck Rogers Battle Cruiser Rocket Statue is a gorgeous recreation of the ship, made out of resin and featuring hand-finished casting. Measures 11-inches long x 8-inches tall.

A limited edition of 1,000 pieces worldwide!

OPENING BID: $129.95

7

DAY AUCTION!

-----------------------------------------------------------------

WIZARD OF OZ 50TH ANNIVERSARY PROMOTIONAL STANDEE
Vintage 1989 promotional standee advertising 50th anniversary release of Wizard of Oz on home video (1989). Item was found in storage, in original mailer, not assembled. Includes original assembly instructions and all components of the standee. Item is in pretty good condition for it's age, but there is some wear. The base has some scuffs and a watermark at the bottom. Toto, the dog, has some minor scuffs.
The dress is warped at the top; this may or may not be noticeable after assembly. The corner of the bow worn by Dorothy is folded at the edge and there is some rippling of the cardboard on her arm. One of the tray components is folded at the edge; this may or may not be noticeable after assembly.


When assembled, the overall standee is about 62 inches. The mailer is about 44 x 15 x 1 inches.

This vintage merchandiser was designed to hold 24 VHS copies of the 50th anniversary release of The Wizard of Oz.

OPENING BID: $49.95

7

DAY AUCTION!

-----------------------------------------------------------------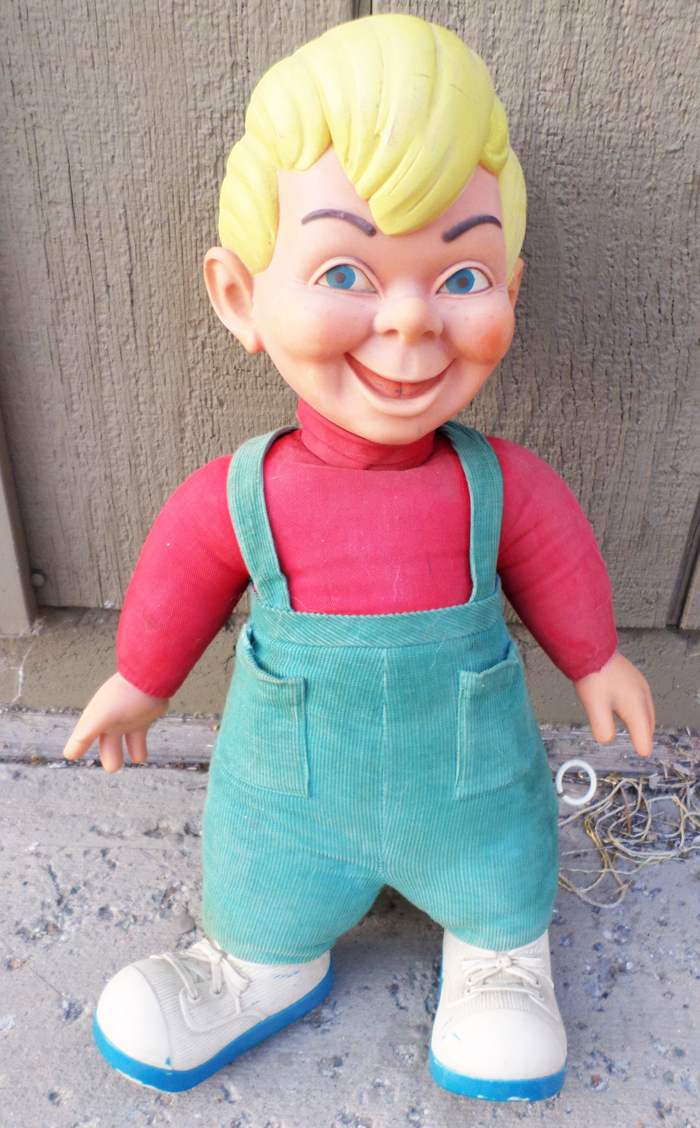 VINTAGE TIME FOR BEANY DOLL
GREAT CONDITION

Very rare collectible doll of Beany from the 1950s children's TV show Time For Beany

It is a pull-string talking doll, but the audio is heavily distorted. Estimated to be made in 1963 as discerned from it's TV commercial found on Youtube. Tag on the doll reads Mattel Char © 1949 Bob Clampett.

Doll is in very good condition for it's age, but there is some discoloration and the beanie propeller is missing.

OPENING BID: $159

.95

7

DAY AUCTION!

-----------------------------------------------------------------
GHOSTBUSTERS 2 3-D LENTICULAR POSTER

EXCELLENT CONDITION!

RELEASED TO PROMOTE VHS VIDEO RELEASE OF THE SECOND MOVIE.

VERY BRIGHT EYE-POPPING 3-D! MOUNTED ON STURDY NON FLEXIBLE LENTICULAR SHEET. MEASURES 10" X 15." THE LENTICULAR SURFACE DOES HAVE SCRATCHES ON IT BUT YOU REALLY HAVE TO LOOK TO FIND THEM.

OPENING BID: $

29.95

7

DAY AUCTION!

-----------------------------------------------------------------
THE MAN FROM UNCLE VINTAGE ACTION FIGURE
NAPOLEON SOLO 1965 ACTION FIGURE. INCLUDES ACTION FIGURE, CLOTHING, PISTOL, U.N.C.L.E. POCKET INSIGNIA, AND IDENTIFICATION CARD. BOX HAS WEAR AND TEAR (SEE PHOTOS), BUT ACTION FIGURE IS IN MINT CONDITION.
OPENING BID: $149.95
7 DAY AUCTION!
----------------------------------------------------
1930's/40's KELLOGG'S ALL-BRAN CEREAL BOX

COMPLETE! NO MISSING PIECES!

OPENING BID:

$33.95

7

DAY AUCTION!

-------------------------------------------------

1970's Glamour 20th Century Pin-Ups (Paperback Book)
Like New
Ammonite Press unveils a series of four picture books (this one is the 1970's edition) compiled from the archives of the classic girlie magazines, Fiesta and Knave, which celebrates an age when glamour photography strove more for artistic ideals and risque titillation than the sexually explicit top-shelf titles of today. The bevy of beauties that graces the pages of these four books illustrates the changing faces"and bodies"of the glamour model over four decades, from the demure to the titillating, the seductive to the steamy, the erotic to the raunchy. Features almost three hundred photographs, all with whimsical yet reverential captions describing the girls, the sets, the poses, and the props.
OPENING BID: $14.95
7 DAY AUCTION!
------------------------------------------------

The Amazing Spider-Man Pop Up Book
New In Wrapping
First in a series of four pop-tastic volumes: THE AMAZING SPIDER-MAN! Follow Spidey as he makes his transformation from shy bookworm Peter Parker to friendly neighborhood web-slinger. Plus encounter his seven deadliest foes, including Doctor Octopus, the Green Goblin, and Sandman. Kazam! The first in a series spotlighting Marvel superheroes, this trapezoid-shaped offering combines comic-book excerpts with action-packed pop-ups to introduce the web-slinging wonder. Four foldout comic-strip sections spread throughout the book relate Peter Parker's story: the bookish teen's fateful encounter with a radioactive spider; his testing of his new powers at a wrestling match and donning of the familiar costume; the murder of his beloved Uncle Ben; and his capture of the perpetrator and transformation from self-absorbed media star to justice-serving hero. Colorful 3-D sculptures leap out at readers with every turn of the page as they meet seven of Spider-Man's most ferocious foes, including the Green Goblin, Doc Ock, and the Vulture. These spreads feature a storyboard retelling of how each villain gained his superhuman abilities; a slide-out tab listing his vital statistics, skills, weapons, and cool gadgets; and, in most cases, an encounter between the bad guy and Spidey. Additional pull-out files highlight other key characters. The pop-up images, many embellished with bright metallic paper, retain the nostalgic appeal of the retro comic-book art while injecting an element of movement and excitement. After browsing this title, youngsters will be fully initiated into Spider-Man lore and ready to take on the Marvel classics.
OPENING BID: $15.95
7 DAY AUCTION!
-------------------------------------------------

X-Men Movie Professor X Action Figure
New In Box
X-Men - Movie Series 2 Professor X (Anit-Magnetic Wheelchair) Action Figure from the 2000 toy series. (with anti-magnetic wheelchair!) Charles Francis Xavier, also known as Professor X, possesses the most powerful mutant mind on earth. He is the worldÂ's strongest telepath and can read peopleÂ's thoughts and control their actions. Xavier formed his team of X-Men to stop evil mutants from using their great powers to try to enslave and destroy humankind. XavierÂ's greatest enemy, Magneto, was his closest friend until their radically different philosophies placed them at odds. MagnetoÂ's mutant powers of magnetism allow him to have complete control over all forms of metal. When Xavier encounters the megalomaniac, he uses a special wheelchair made complete of plastic parts so that Magneto cannot manipulate it and use it as a weapon. New in Box! Great condition! Examine photos.
OPENING BID: $16.95
7 DAY AUCTION!
-------------------------------------------------
DVD: SPACE PATROL GOLD EDITION VOL. 1
NEW! SEALED!
ALMOST OUT OF STOCK! ONLY SEVEN LEFT!
THIS DVD CONTAINS 1 HOUR AND 45 MINUTES OF PROGRAMMING: 5 VERY RARE FIFTEEN MINUTE SHOWS PLUS 1 HALF HOUR SHOW: THE MAN WHO STOLE A CITY. WITH ORIGINAL COMMERCIALS. TRANSFERRED DIRECT FROM KINESCOPE TO DVD. TOP QUALITY!
The Space Patrol television show began broadcasting March 9, 1950, starting as a daily 15-minute show on a local Los Angeles station. However, on December 30, 1950, the American Broadcasting Company (ABC) added the show as a new half-hour program to its Saturday schedule. It became an overnight sensation such that the new weekly show broadcast and the 15-minute shows continued daily on a local basis, and was seen via kinescope in other cities.[3] A 1953 30-minute episode was the subject of the first U.S. experimental 3D television broadcast on April 29 in Los Angeles on ABC affiliate KECA-TV.[4][5]
MORE: http://en.wikipedia.org/wiki/Space_Patrol_%281950_TV_series%29
OPENING BID: $9.95
7 DAY AUCTION!
------------------------------------------------
THIS ENDS OUR CURRENT AUCTION LISTINGS